Title: Unexpected Fate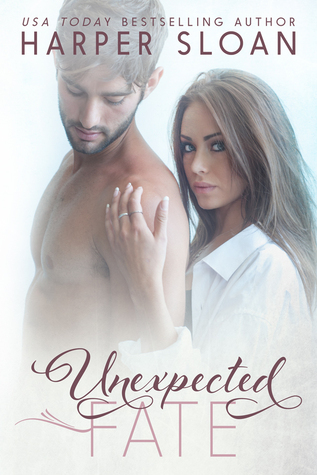 Series: Hope Town #1
Author: Harper Sloan
Genre: Contemporary Romantic Suspense
Pages: 300
Heat Level: 4 out of 4 flames
Overall Star Rating: 4 out of 5 stars
Reviewed by Naughty Book Snitch Kay
Have you ever felt like you were living your life for a future that was predetermined? Like there was some bigger picture you just prayed you would someday see clearly? That picture has been crystal clear to me since I was old enough to recognize it for just what it was.

Or I should say recognize him for who he was.

I've loved Cohen Cage since I was a small child. He's been my everything for the last twenty-two years. I've loved him through every girlfriend he's ever brought home. Through his college years and then mine. I've loved him through two deployments. And ever since the day I told him how I felt, he's acted like I'm a stranger.

My name is Danielle Reid, and it's time for me to get my man.

Our future is an unexpected fate, and no matter what our parents, siblings, and friends say…it's going to be worth every second of the fight to make it happen.

A spinoff series of Corps Security? Yes please!
Cohen Cage is all grown up. A special forces soldier like his dad. He has wanted Dani Reid for a long time but there were many reasons for him to fight it. His career, his family, his extended family and Dani's dad, Axel. When he finds out the extent of Dani's feelings for him, he spooks and handles it badly.
Dani Reid wants Cohen Cage badly. She watched him be oblivious to her for years. She's done watching and ready to start doing doing all she can to make Cohen realize that's she loves him . Dani is determined that Cohen is hers and nothing will stand in her way.
Fans of Corps Security, be warned. This series is fantastic and will help you cope with The Corps series being over. You get to catch up with the characters from the first series, now in their fifties. I loved reading about these children all grown up. Oh Cohen Cage, you scrumptious alpha male, you made my heart pitter patter. Once he made peace with being in love with his dad's best friend's daughter, he was balls to the wall to prove his love. Dani was as strong as you'd expect her to be with the parents she has. This was a wonderful start to a new series and the fact you get to mix it with the old one, fantastic!