Title: Until Jax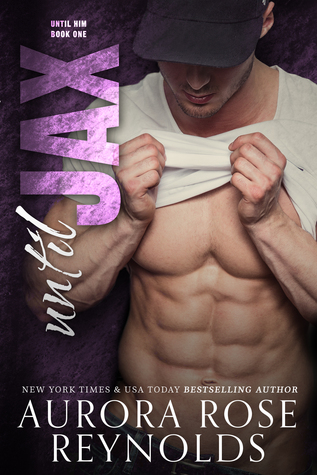 Series: Until Him #1
Author: Aurora Rose Reynolds
Genre: Contemporary Romance
Pages: 216
Heat Level: 3 out of 4 flames
Overall Star Rating: 3.5 out of 5 stars
Reviewed by Kay the Snitch Bitch
Ellie Anthony isn't looking for love. She isn't even looking for a man, but when Jax Mayson insists on keeping her and her daughter safe, she's left with no choice but to trust him. Now she just hopes she doesn't get hurt when she falls hard for a guy who's known for breaking hearts.

Jax Mayson knows that Ellie is his BOOM the moment he sees her. When he finds out she has a daughter, he realizes he wants a family, and he will do whatever is necessary to keep both of his girls safe, even if that means facing the demons from his past.

I get giddy every time this author has a book come out. I read the book but I'm not blown away by it. This series is good but not great for me. This one is about Jax Maysen. He's a bit of a supposed man whore. This man whore had just met his "boom" at the end of the last book and this starts pretty much right where the last one left off. Readers of this series know all too well about the Maysen mens' "booms". Being a Maysen man isn't always easy but it does has it's perks.
Ellie is the "boom" in question here. She's a single mom with a young daughter who has moved to town after she was rescued from a human trafficking ring. She just wants a simple, decent life for herself and her daughter. When her life gets taken over by a larger than life alpha male, she has a bit of a hard time handling it. She's almost always been on her own and prefers it that way. The only problem is that once a Maysen man finds his "boom", it's all over.
I like this series but still wish I loved it. I'm interested enough to keep going though.