Title: Until July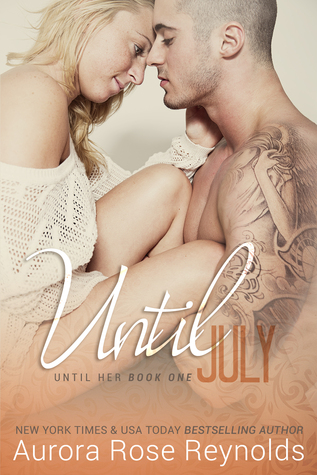 Series: Until Her #1
Author: Aurora Rose Reynolds
Genre: Contemporary Romantic Suspense
Pages: 240
Heat Level: 3 out of 4 flames
Overall Star Rating: 4 out of 5 stars
Reviewed by Naughty Book Snitch Kay
Wes Silver wasn't looking for love, but when July Mayson literally knocks him on his ass during their first encounter, his world is turned upside down by the quirky blonde, and every moment with her makes him more determined to protect her.

July Mayson doesn't understand the pull she feels toward the bad boy biker Wes Silver, but she knows being with him is like nothing she's ever felt before. Now all she has to do is tell her overprotective father, Asher Mayson, that she's found her boom.

This book starts a new spinoff series from the Until series. It focuses on the children from that series but rest assured, everyone is all grown up.
July is the daughter of Asher and November Mayson. She's a veterinarian In her home town. While driving home one night on her motorcycle, she swerves to miss a bird and almost collides with a man on a bike. This man yells at her after she pulls over. July is no fragile flower, she yells right back. The catch is that this man is a biker and he's not used to women yelling at him.
Wes just wants to rule his club and ride his bike. Sure he's had to do stuff that other people might not be able to do in the name of his club but it's a small price to pay for the feeling of brotherhood. When he almost gets run off the road, he's pissed. Who the hell is the guy on the bike? When he rips the guys helmet off and realizes it's a woman, he's blown away in more ways than one.
Good start to a new series. My only complaint was the insta-love but that's a trademark of this author and she does it pretty well. I'm looking forward to the other grown children's stories.