Title: Until the End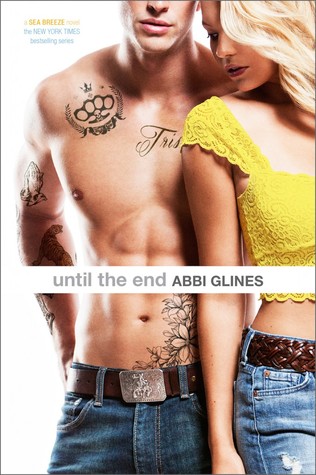 Series: Sea Breeze #9
Author: Abbi Glines
Genre: Contemporary Romance
Pages: 271
Heat Level: 3 out of 4 flames
Overall Star Rating: 5 out of 5 stars
Reviewed by Naughty Book Snitch Kay
Trisha Corbin always knew how to hide a bruise. With her momma's boyfriends unable to keep their hands off of her, she had no choice. And as long as it meant the guys wouldn't go near her little brother, Krit, it was worth it. But her days of dreaming that Prince Charming would ever come rescue her are far, far in the past.

Rock Taylor always had a plan. Through football, he would rise above the life he was born into. A full ride to play for a major college team was within his reach—assuming he didn't let anything get in his way. But scoring a date with the hottest girl in Sea Breeze was proving harder than expected. Trisha Corbin was every man's walking fantasy, and she wouldn't even glance his way.

When Rock finally does get Trisha in his truck, it isn't for a date. It's because he picks her up on the side of the road, beaten and bruised and walking to the local hospital. Before Rock knows it, football is no longer his life. Trisha Corbin is. And he'll do anything to save her. And keep her.

I loved this book! I'd always wondered about Rock and Trisha's story. Reading it was pure bliss even if it was too short. Rock Taylor is my new book boyfriend. He's perfect. He wanted Trisha for years. I wouldn't call him patient in his pursuit of her. He made sure she was aware of his desire for her.
When he realized what her home life was like, he stood up, front and center. He used everything he had to protect her and Krit. What he did and what he gave up made him absolutely swoon worthy. It was perfect Abbi Glines bliss. I enjoyed the epilogues on the series' couples, but the ten years later one? It left me giddy, happy, salivating and with my mouth hanging open. I can not wait for that book!