Title: Vicious Cycle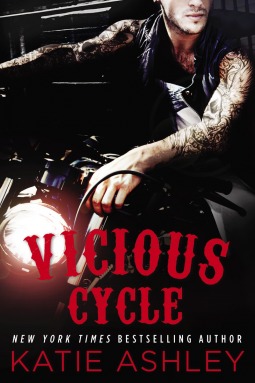 Series: Vicious Cycle #1
Author: Katie Ashley
Genre: Contemporary Romantic Suspense
Pages: 336
Heat Level: 3 out of 4 flames
Overall Star Rating: 3.5 out of 5 stars
Reviewed by Naughty Book Snitch Kay
Deacon Malloy's life is dedicated to the Hell's Raiders motorcycle club. Tough, hard, and fast with his fists, he serves the group as sergeant at arms. But his devil-may-care approach to life is thrown for a loop when the five-year-old daughter he never knew existed lands on the club steps.

Alexandra Evans is devoted to all her students—but there's always been something about Willow Malloy that tugs at her heart. There's an aura of sadness about her, a girl in need of all the love Alexandra can give. When Willow stops coming to school, Alexandra's search leads to a clubhouse full of bikers…and a father hell-bent on keeping his daughter always within sight.

The moment Deacon sees Alexandra, he has to have her in his bed—and he's never met a woman yet who couldn't be persuaded. No matter how attracted she is to Deacon, Alexandra refuses to be just another conquest. But it's Deacon himself who could be seduced—into a brighter future for himself, his daughter, and the woman he's falling for against all odds.

I've had this rant before. What I need to fully enjoy a MC romance. It is of course, specific to me. It needs an extreme alpha male, not a Dom, great suspense, not be for the faint of heart and it has to have an HEA. Anything less and it falls into the category of MC lite. Again, MC lite is not a bad category but I'm never gonna love it. Never.
Alexandra is a kindergarten teacher with a painful past. Her star student is the daughter of an MC member. When she makes a house call due to the student's long absence, she meets Deacon, the child's father. Their first meeting is unusual to say the least. A little violent, although it's a case of mistaken identity. To make a long story long, they come to an understanding and begin their push/pull relationship.
Deacon has had a painful past himself but he's always had his MC to rely on. This relationship stuff is new for him and he kinda sucked at it, but he tried. Luckily, he has a family unit that guides him. He's very much an alpha male, which I liked.
My problems with this book are as follows:
I never fully connected with the main couple as a couple.
Too much club information was shared with a civilian.
A prospect hiding important info from his MC regarding an old lady.
None of these things rang true for me. It was too much for me to handle. But there were parts I really enjoyed as well. I loved the characters, the suspense was pretty good and the sex was hot. The opening scene in the book was suspense at its best. Will I go on with the series? Probably not as the club is trying to legitimize itself. Was this a good book? Yes it was, just not what I love in this genre.