Title: When I Break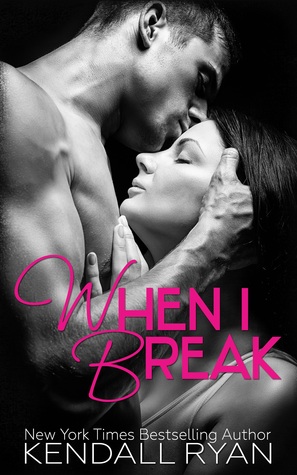 Series: When I Break #1
Author: Kendall Ryan
Genre: Contemporary Romance
Pages: 226
Heat Level: 2 out of 4 flames
Overall Star Rating: 3 out of 5 stars
Reviewed by Naughty Book Snitch Kay
Knox Bauer's life has unraveled to the point of no return. Fighting to fill the emptiness inside himself, he seeks solace in unfamiliar beds with unfamiliar women. As guardian to his three younger brothers, he can't seem to do a thing right. But this can't go on…they look up to him in every way and all he's done lately is prove how messed up he really is. Needing a change, he attends a local Sex Addicts Anonymous meeting, where he finds himself tempted by the alluring instructor, McKenna.
Twenty-one year old McKenna is trying to make amends. After losing her parents in a horrific accident, she knows if she can just be good enough, maybe she can forgive herself for what happened. With her newly acquired degree in counseling, she begins leading a sex addicts group where she meets the troubled Knox and her life takes on complications she never bargained for. She doesn't have time for a bad boy who only wants to take her to bed, even if her body disagrees. The fixer in her wants to help, but trusting Knox's true motivations might take more courage than she has.

Knox is a sex addict or so he's been told. He's more than that though. He is the sole provider for his younger brothers and himself. His father abandoned the boys after his mother's death, so Knox does all he can to keep his family together and cared for. His stress relief is sex, plain and simple. His stress relief is plain and simple but not the sex itself. After being forced to see someone because of some of his actions, the therapist decides he has to attend a Sex Addict group. He's less than thrilled but knows he really has no choice.
McKenna is a twenty-one year sex therapist. She has her own demons that she's battling. Oh, she's also a virgin. A virginal sex therapist? Right. Impossible? No. Improbable? In my opinion, yes. She feels guilty over the death of her parents and immersed herself in her school work, therefore has no real experience with men. Her attraction to Knox and his to her starts off with a friendship of sorts. McKenna knows there's lines of propriety here that she's skirting and she really wants to help Knox but their attraction finally gets the better of them both.
This was my first book by Kendall Ryan and I was disappointed. After seeing her name pop up everywhere on Goodreads, I was expecting something more. There's nothing wrong with her writing, I just thought when she got to the actual sex part, she'd close the deal. Don't get me wrong, there's on page sex but it struck me as more of a YA feel to it. That's something I can't stand in my adult romance. I may try something by her in the future since I didn't hate the book. If you like lots of sexual tension with little to no closure, then maybe you'll like it.