Title: Worth the Chance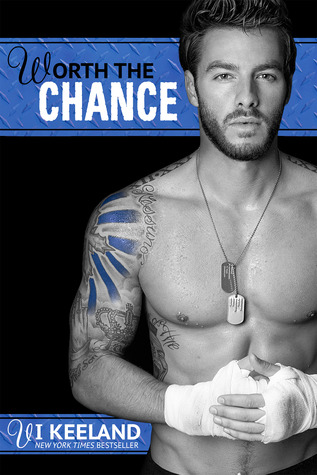 Series: MMA Fighter #2
Author: Vi Keeland
Genre: Contemporary Romantic Suspense
Pages: 300
Heat Level: 3 out of 4 flames
Overall Star Rating: 3 out of 5 stars
Reviewed by Naughty Book Snitch Kay
Meet Liv Michaels
It may have been seven years, but I'd know him anywhere. Sure, he's grown, filled out in all the right places, but his captivating blue eyes and cocky grin are exactly the way I remember. Even though I'd much rather forget.

Liv Michaels is almost there. She's smart, determined and weeks away from landing the job she's dreamed about for years. Time healed old wounds, even her broken heart from the devastation of being crushed by her first love.

Meet Vince Stone
Women love a fighter, especially a good one. Lucky for me, I'm damn good. But there's one woman that isn't interested. Not again, anyway.

Vince 'The Invincible' Stone is every woman's fantasy…strong, sexy, confident and completely in control. Growing up surrounded by chaos, he's learned never to get too attached. Love will drag you down. He adores women, treats them well, puts their own needs before his own…for the night anyway. With the biggest fight of his life coming up, his focus should be on training.

When fate brings Vince & Liv back together again, there's no denying the chemistry is still there. But can Vince erase the old scars their past left behind? Or will Liv hurt him instead?

Liv Michaels was always a bridesmaid but never a bride in high school. She was the quintessential nerd. Cute but still a nerd. She crushed on Vinny Stonetti for a long time, so when she got to tutor him, her heart was no longer safe. She knew her place with him, she just didn't like it. Feeling overwhelmed and heartsick, she accepted being in the friend zone.
Vinny Stonetti was the son of a dead serviceman and a crack whore mother. He's been the adult in his home for longer than he should've. He struggled with school work and ended up needing a tutor. Liv Michaels is nothing like the girls he spends time with but he likes her. He can talk to her and he's interested in what she has to say. The two form a cute friendship but like all friendships, when you spend that much time together, friendships change. Their friendship becomes a first love relationship, complete with heavy make out sessions. They almost make love but because of Vinny's self image issues, he passes on the opportunity. He then gets expelled and disappears from Liv's life.
Now in modern day, Liv has the chance to land her dream job. To do that she has to write a story on an up and coming MMA fighter. Guess who it is! Vinny. As you can imagine, this isn't what she wants to do. And when she has to do an even deeper story on him, she even more shaken. Because now she and Vinny have reconnected in all ways and she doesn't want to hurt him.
Take old romantic feelings, current arousal, a crack addicted mother, thugs threatening you, a title fight, and a mystery of paternity, throw them all together and that's what this book offers you. It was a decent read but Vinny's almost Dom tendencies were a turn off for me. I enjoyed his alpha male ways but he took them too far for my tastes. I don't know if my feelings of this genre are a product of the market being flooded with them or just me but I remember enjoying MMA romance much more in the past.