Title: Worth The Risk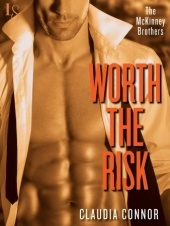 Series: The McKinney Brothers #2
Author: Claudia Connor
Genre: Contemporary Romantic Suspense
Pages: 272
Heat Level: 3 out of 4 flames
Overall Star Rating: 4 out of 5 stars
Reviewed by Naughty Book Snitch Kay
Two hearts locked away . . . Hannah Walker spends her days coaching children through injury and trauma, one therapeutic horseback ride at a time. She knows all too well how violence can change a child and leave scars that never heal. It's easy for her to relate to the kids; what isn't easy is the thought of facing her own harrowing past.
Millionaire playboy Stephen McKinney could use a little coaching himself. Five years ago he encountered his most horrible nightmare—and the nightmare won. No matter what he achieves, nothing can make up for that awful night . . . or so he believes.

Both desperate for a second chance . . . Stephen is used to getting what he wants. And he wants Hannah. So when she turns him down, he's intrigued. What he doesn't know is that her secrets will lead him to a place he never wanted to go again . . . to a side of himself he's tried to forget . . . a side that would scare Hannah away from ever loving him. Now his only chance to win her trust is to bare his soul, risking everything he tried so hard to protect.

Hannah Walker is a therapist of sorts that works with children who have some sort of disability. She owns a farm and uses horses in her therapy approach. She understands the need for therapy, whether for a disability or some sort of trauma one suffers. She's a survivor of trauma herself. At age fourteen, she was abducted by someone she knew and trusted. She suffered horrifically for over a month at the hands of a psychopath before she was found and rescued. This ordeal has left her scarred not only mentally but physically as well. She's never dated and prefers it that way. Outside of her handful of extremely overprotective brothers, what man can she ever trust?
Stephen McKinney is a self made millionaire. He was also a victim of violent crime. His fiancée was murdered a few years back and he has never recovered from the loss and guilt of her death. He was basically a drunk for awhile but now is only a glutton of women. Lots of women. He makes no promises of anything more than just sex. He can't give his heart when he already gave it years ago.
These two have a chance meeting at the supermarket and Stephen is instantly attracted to Hannah. She's a light in his darkness. Hannah wants to feel love but her scars and trust issues are boundless. For the first time ever, Stephen has to work at getting a woman into his bed. But the woman he chose? Will she ever accept not only his love for his deceased fiancée but the dark thoughts of retribution that run through his head? Will Hannah ever be able to get past what happened to her and let herself fall in love?
This was a good book. Great characters, primary and secondary. Good storyline. Emotional. Sweet at times. I loved both of their families and those families' hopes that each one could heal from their losses. This is a story of acceptance and self forgiveness.
Book given in exchange for an honest review by the author via NetGalley.