Title: Zack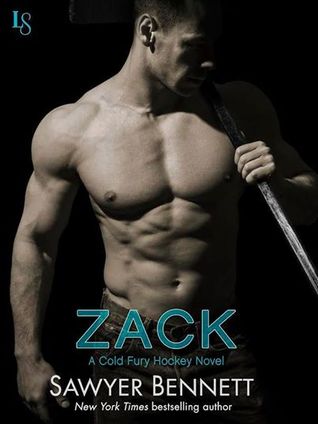 Series: Cold Fury Hockey #3
Author: Sawyer Bennett
Genre: Contemporary Romance
Pages: 320
Heat Level: 3 out of 4 flames
Overall Star Rating: 4 out of 5 stars
Reviewed by Naughty Book Snitch Kay
Rising star Zack Grantham has been stuck in a downward spiral of grief ever since the car accident that left him a single dad and put his career on hold. Back on the road with the Carolina Cold Fury and still crippled by emotional baggage, he's in need of some serious help with his son. But while the nerdy new nanny wins his son's heart, Zack isn't sure he's ready for a woman's touch—even after getting a glimpse of the killer curves she's hiding under those baggy clothes.

Kate Francis usually keeps men like Zack at a distance. Though his athlete's body is honed to perfection, he refuses to move on with his life—and besides, he's her boss. Still, the sparks between them are undeniable, tempting Kate to turn their professional relationship into a personal one. But before she makes a power play for Zack's wounded heart, Kate will have to open him up again and show him that love is worth the fight.

Be warned..,there are spoilers in this review.
Kate is a part time student who has to work to be able to afford school. Her upbringing was unconventional in the way that she had major responsibilities at a young age. Her father loved her but was a drinker and her sister was somewhat of a slut. She's just landed a job as a nanny that will help with the school costs.
Zack plays for the Cold Fury hockey team and recently was involved in a car accident that left him injured and his girlfriend dead. He's swimming in a sea of guilt for a numbers of things. He was forced by his sister to hire a nanny for his three year old son. When Kate shows up at his door, he's immediately put off by her nerdy appearance.
Kate needs this job and Zack needs a lot. The author did a good job with the guilt issues that would realistically happen. I truly felt for both characters and their need to hide from parts of the outside world. My big complaint with this book was that Zack was a bit of a douche. He took his pain out of Kate more than once. His guilt at loving someone and not being in love with them was huge but in the end it all worked out.
Book given in an exchange for an honest review via NetGalley.