Title: Zeke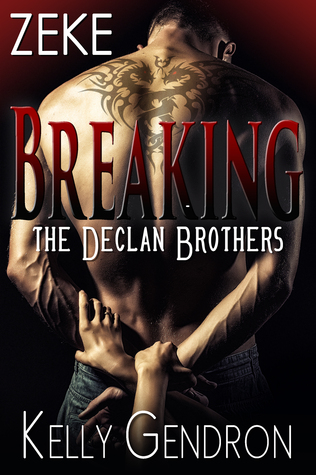 Series: Breaking the Declan Brothers #3
Author: Kelly Gendron
Genre: Contemporary Romance
Pages: 200
Heat Level: 3 out of 4 flames
Overall Star Rating: 4 out of 5 stars
Reviewed by Kay the Snitch Bitch
"Some guys call, some date, and some guys, they might even get married. But, sweetheart, I ain't any of those guys…" ~ Zeke Declan

Every girl in Galveston County knows about Zeke Declan's rules and has agreed to them or is considering them.
Rule #1 Don't call him. He'll call you.
Rule #2 He doesn't date.
Rule #3 No sleepovers.
Rule #4 Absolutely, no virgins.

When a couple friends talk me into going back to their hometown in the Bayou for the summer and challenge me to break "the best damn lay in Galveston County" along with every single one of his ridiculous rules, I'm confident that I can get the job done. I'm no stranger to men. I have five older brothers. I'm a teacher and I'm used to being around rebellious teenagers. However, Zeke Declan is definitely not someone that I could have prepared for. He's not a testosterone-fueled, immature boy. He's a confident, arousing, playful, and mind-melting man. But, behind that sexy charming smile, I know he's hiding a secret. And, in order to break him, I'm going to need to find out what it is…

I had been waiting for this book for a while now. I just had to see the final Declan brother fall. I was so not disappointed either.
Zeke is a fighter like his brothers. They had to be after the death of their parents, a fire that almost killed one of them and their views regarding love. Zeke is reputed to be the best lay in Galveston. Apparently, it's the truth. But wait, he has rules. I'm not gonna repeat them since they're in the synopsis but check them out. He is steadfast in these rules. Ironclad.
Lurlene is spending the summer with her two friends, who have already broken the other two Declan brothers. Her mission is to break Zeke and all of his rules. I loved Lurlene. She was sweet, innocent and effective. She had Zeke breaking every rule he had ever made just by claiming she wasn't really interested in him. I giggled as I watched rule after rule go up in flames and Zeke being fully aware of it but helpless to stop it.
I have enjoyed this series and look forward to the spinoff.