Title: A Thousand Boy Kisses 
Series: None
Author: Tillie Cole
Genre: Young Adult Romance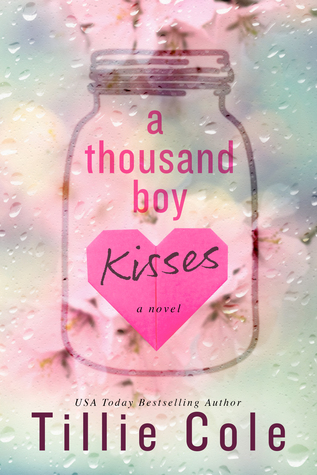 Pages: 316
Heat Level: 1 out of 4 flames
Overall Star Rating: 5 out of 5 stars
Reviewed by Kay Book Snitch
One kiss lasts a moment. But a thousand kisses can last a lifetime.One boy. One girl. A bond that is forged in an instant and cherished for a decade. A bond that neither time nor distance can break. A bond that will last forever. Or so they believe.When seventeen-year-old Rune Kristiansen returns from his native Norway to the sleepy town of Blossom Grove, Georgia, where he befriended Poppy Litchfield as a child, he has just one thing on his mind. Why did the girl who was one half of his soul, who promised to wait faithfully for his return, cut him off without a word of explanation? Rune's heart was broken two years ago when Poppy fell silent. When he discovers the truth, he finds that the greatest heartache is yet to come.

SPOILER WARNING
This book was the most wonderful love story that I have ever read. It was precious and innocent. Love in it's most simple and pure form. A boy and a girl who became best friends at 5, soulmates at 8 and had the love of a lifetime at 15. I'm still sitting here with tears in my eyes and a goofy smile on my face.
Poppy was amazing. Her outlook on life was awe-inspiring. Her faith in God and her acceptance of what lay ahead for her, made me tear up over and over. She was sweet and kind. Never felt sorry for herself and life dealt her a shit ass hand. She is my most favorite heroine that I've ever read about.
Rune. The hero. There were several times that I wanted to shake him but I understood his anger. It was watching him process and come to terms with it that was an emotional journey. Poppy and her love made him a better person. Everyone should be loved the way Rune loved Poppy.
Love intense romances? Don't mind a little tears with yours? If so, read this book. You will cry but you will never read a love story that's as beautiful as this one.