Title: President Domald Loch Ness Tromp Pounds America's Butt 

Series: NA
Author: HUGO NOMINATED AUTHOR Dr. Chuck Tingle
Genre: Humor, Erotica, Tingler
Pages: 42
Heat Level: 2 out of 4 flames
Overall Star Rating: 5 out of 5 stars
Reviewed by: Naughty Book Snitch Alana
Read Alana's Goodreads review here.
Pibbles Pooch is a young, hotshot journalist with Bowling Bones Magazine, who's just started his week on the presidential campaign trail with the notorious billionaire, Domald Tromp.

But things immediately get off to a rocky start when Domald tells another journalist that he's fired, and then proceeds to throw him off of the plane mid-flight. Not surprisingly, the candidate's approval ratings go through the roof.

Soon enough, things are going from bad to worse when Pibbles receives some top secret information about the real Domald Tromp, a man who may or may not actually be the Loch Ness Monster, and who may or may not be craving a lustful encounter within Pibbles' tight butthole.

This erotic tale is 5,000 words of sizzling human on gay politican action, including anal, blowjobs, rough sex, and Domald Loch Ness Tromps love.
This is the second in my TINGLEFEST 2016 series! Here, let me whip out the graphic again.
There! TingleFest 2016 continues with President Domald Loch Ness Tromp Pounds America's Butt, which is very topical! This is obviously a stand in for a presidential candidate… I don't think I need to say which one. If I do, then you really need to turn on a television or a computer.
We start out with Pibbles Pooch, a small up and coming journalist for a small paper who observes that all of the journalists around him are both war weary, and like sharks at the same time. The analogy is very apt. He writes that everyone around him is jaded, but that any small action by either candidate during the election season is apt to send them into a tizzy of activity. This, I think, is a remarkably astute observation on Dr. Tingle's part. It does seem that our journalists are locked into this sort of activity in the name of ratings, and pushing particular agendas for their paper and/or television station.
Anyway, as they fly with Domald Tromp on his HUGE jet plane (Keith, is that you?), he starts taking questions… and I have to say, Dr. Tingle caught that certain political candidate's words and tone perfectly. It was eerie reading it. Domald goes on to say several things, and while I rarely quote from books, I have to quote this:
"Speaking of immigration, I was wondering if you had anything you'd like to say about the dinosaurs who are upset about your racist comments regarding them crossing the border into America," Barno suddenly interjects.
…
"Well, first of all I was talking about illegal dinosaurs, not legal dinosaurs," Tromp explains. "If you were paying attention you'd know that, but you know what? I think you're kind of a third rate journalist for asking that question. That's what I think."
Domald Tromp says he can do anything. To prove it, he fires Barno on the spot and has the stewardesses throw him out of the plane.
Immediately, Barno starts to struggle against the stewardesses, but it is already too late. There is a wild yell as my friend is thrown from the airplane, whipping out into the vast blue sky and then plummeting down through the clouds behind us as he tumbles end over end.

The door slams shut, leaving the room in total silence.

"That's what I think of lightweight journalists. I think that's fair," says Domald Tromp.
Yup. Wow. Damn. It would be funny if I couldn't see that happening with crystal clear clarity in our world and not just the Tingleverse.
Shaken up, our young journalist tries to relax while at the rally (where Domald promises everyone in America a steak dinner), but Barno's boss calls him saying he's got some revealing information on Domald Tromp! Alone in his room on the jet plane, our young journalist waits for the email and it's a doozy… Domald Tromp was born not in America, but in Scotland and it turns out his name is Domald Loch Ness Tromp! AND he's a dinosaur! Not JUST a dinosaur but the Loch Ness monster! Other than his Scotland roots, I'm just not sure why he hides the fact he's a dinosaur. He could be the first dinosaur president of the United States!
I also imagine this is what he looks like: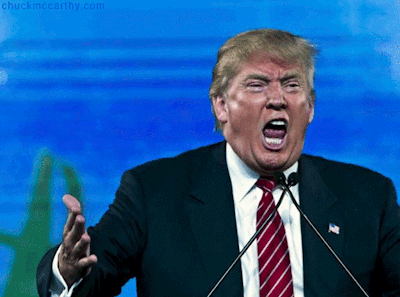 As soon as Pibbles gets the email, he's called into Domald's office. There, he can see it. Finally he can see it! And once he does, he's possessed by a strange gay lust (Pibbles' words!) for the Jurassic beast. Domald, smitten with Pibbles' good looks, tells Pibbles his plan for America.
"I'm going to tell it like it is," the creature explains, "because that's just the way I do thing. I love America, I really do. In fact, I love America so much that I want to pound it in the butt."

"In the butt?" I ask.

"Yes," Domald nods, "and if I'm going to start the process of pounding America in the butt, I'd like to start with you. With your beautiful, muscular rump."
Does that pounding come with the steak dinner he promised? Or is it BECAUSE of the steak dinner he feels the need to pound America in the butt?
After that, of course, is the sexy part, which is really hysterical to read. I couldn't do it justice here, but I highly recommend it. Afterwards, we find out the American people voted against him. I imagine it was kind of like this:
I have to say… this short is awesome. Dr. Tingle captures Don… er Domald's personality exactly, and it's a bit of a horrifying read. Still funny, but horrifying at the same time. He pretty much nails the political climate for the Republican party on the head, and offers up his own theories as to why Domald is popular. It's weird, contemporary, on point, funny, a bit sexy, and extremely fun to read. There IS a bonus Tingler at the end, but I am running out of time this week, so you will have to discover that sexy funny tale on your own! I give this short 10 out of 10 illegal dinosaurs!

Amazon US ~ Amazon UK ~ Amazon AU ~ Amazon CA