Title: Reaper's Stand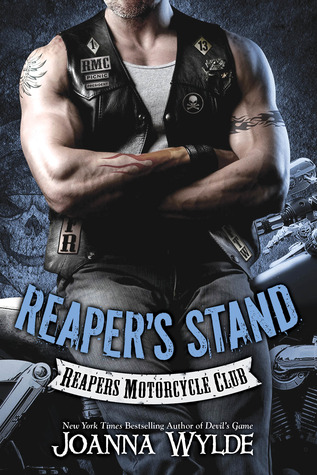 Series: Reapers Motorcycle Club #4
Author: Joanna Wylde
Genre: Contemporary Romantic Suspense
Pages: 336
Heat Level: 4 out of 4 flames
Overall Star Rating: 4 out of 5 stars
Reviewed by Naughty Book Snitch Kay
As Reapers Motorcycle Club president, Reese "Picnic" Hayes has given his entire life to the club. After losing his wife, he knew he'd never love another woman. And with two daughters to raise and a club to manage, that was just fine with him. These days, Reese keeps his relationships free and easy—he definitely doesn't want to waste his time on a glorified cleaning lady like London Armstrong.

Too bad he's completely obsessed with her.

Besides running her own business, London's got her junkie cousin's daughter to look after—a more reckless than average eighteen-year-old. Sure she's attracted to the Reapers' president, but she's not stupid. Reese Hayes is a criminal and a thug. But when her young cousin gets caught up with a ruthless drug cartel, Reese might be the only man who can help her. Now London has to make the hardest decision of her life—how far will she go to save her family?



This was almost a five star book. It was so very close and then it happened. You know when you read about a love so real you can just feel it. A bittersweet love but one that shouldn't be tainted. That's what I'm talking about here. Let me tell you eerything wonderful about this story and then I'll explain the above comments.
Reese "Picnic" Hayes is the President of the Reapers MC. He's a widower and father of two young but on their own women. Sure he's had his ups and downs raising two girls by himself but he did his best. He wanted to make his deceased wife proud. Don't be confused about him though, he's deadly, cold and cunning. He's every bit an MC President.
London Armstrong has had to work for everything she's ever had. She works hard at her job. It might not be the most glamorous job ever but it's hers and she built her business from the ground up. She's helped raise her niece, Jessica, since her birth. Her cousin was drug addict through her pregnancy and this has had lasting side effects on Jessica. So you can see how London's life isn't exactly easy.
London's cleaning service is employed by the MC for a couple of their businesses. She knows who Picnic Hayes is and she knows how attracted to him she is. She also knows that he's not the man for her. She needs dependable and safe. But when Jessica gets into trouble, London has to ask for Picnic's help, which leaves her indebted to him. As the two grow closer, things really get hairy, not only with London but the club and it's enemies are closing in.
There was so much I loved about this book. I loved the main characters and you still get glimpses of the characters from past books. I loved that Picnic loved his wife even after her death and never considered having another old lady. I thought it was precious if not over the top that he could hear her talking to him throughout the book. I loved London and her selflessness. She took Jessica on with all her issues and was determined to be there for her.
What pulled the book down in the rating of it for me was that you find out that Picnic was unfaithful to his dead wife when they were married. It never comes out and says it but it was heavily hinted at and that ruined him for me. Don't profess love for her and then let out that you had her okay to cheat. Ewww! That's not sexy at all. I still love the series and will continue on in it but I wasn't okay with that.