Title: Boned By The Baryonyx

Series: The Dino Love Bone #3
Author: Arrow Rivendell
Genre: Smut, Dinosaur Erotica, Monster
Pages: 40
Heat Level: 2 out of 4 flames
Overall: 2 out of 5 stars
Reviewed by Naughty Book Snitch: Mindy
See Mindy's Goodreads Review Here
Warning: Discretion advised. This is funny, explicit and raunchy dinosaur erotica. It is not Mommy and Daddy's soft erotica and it is not suitable for children under the age of 18. Read at your own risk, only if you are ready to unleash your craziest desires and fantasies, or are just ready to laugh a lot.

After failing in her quest to bang the mighty t-rex, Liwen "Stinky" Need-A-Dick is banished from yet another tribe, forced to suck the gauntlet, and given the ultimate challenge. Will she finally get fulfilled, or will her quest end in sorrow and pain again?

This was just ok for me. It's like this could be a cut scene from the move Caveman with Ringo Starr, Dennis Quaid and Shelley Long. WHICH I've always wanted that movie as a porn. I wanted to see them zug zug Lana. Hahaha!
So… why was this just okay to me? Well fist, I did start with the 3rd book so I felt sort of lost and that is totally my fault. Hopefully IF you read the short stories in order then it will make a lot more since and you will have a better experience. Maybe?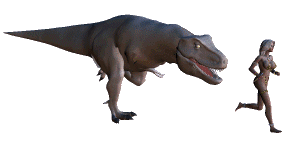 All I got to read was Nisha Fire-Crotch and Rose Poonani were fighting some dinosaurs…. I think… and Kowtow Terris, who is in the same tribe (?) was eaten by one of them. Then they heard some screaming and thought that Pascale Hunts was being eaten too. So everyone rushes over and finds out that Pascale was getting herself some dino dong in her cock-pocket. So as the tribe watched in aww someone notices that Liewen (Rose's sister?) is covered in dinosaur crap with her ass in the air and attempting to seduce the dino. I'm not sure what her back story is, but all she wants is a good ramrodding and nobody will give it to her because she stinks. All she needed to do was wash her nasty ass then someone will want to fuck her front butt. HAHAHA! They were all trying to kill her though… Confused yet?
Oh but wait… then Santa Claus, Jesus Christ, Easter Bunny and the Tooth Fairy showed up… Bawhahahaha!
What I did like was that when fuckery was going down… it's kind of hot but short. I also really liked the names and the names for body parts. This is also pretty funny and I love things that make me laugh.
Overall, it's alright. It has humor, a little bit of sex and a lot of strange. A fun read for sure. I picked this up when it was free. Right now the list price is $2.99 which I think is WAY too much for this 40 page story. If it were me selling this, I would make the first story free to draw in readers and then list the other two as $.99 each. But that is just my opinion. If the price is reduced then I would recommend trying this out for yourself. Otherwise, the cost is too high for me.


Amazon US 🔥 Amazon UK 🔥 Amazon AU 🔥 Amazon CA 🔥 Amazon FR


Arrow Rivendell is clearly demented. After twenty years in a horrid cube farm, Arrow realized that true satisfaction can only come from dinosaur erotica.

Amazon 🔥 Smashwords 🔥 Twitter 🔥 Website